Dipl.-Ing. Hilmar Darrelmann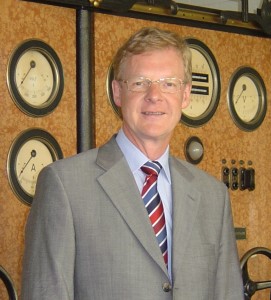 An der Technischen Universität Braunschweig habe ich Elektrotechnik studiert mit den Schwerpunkten elektrische Maschinen und Leistungselektronik.
Im Bereich sicherer Stromversorgung und Antriebstechnik  konnte ich über viele Jahre Erfahrungen sammeln, insbesondere mit statischen und dynamischen unterbrechungsfreien Stromversorgungsanlagen, 400 Hz Flugzeugstromversorgungen, sowie mit der Entwicklung von Schwungmassenspeichern. Dabei war ich in leitenden Funktionen in Entwicklung, Prüffeld, Service und Produktmanagement tätig.
Seit 2006 führe ich ein eigenes Ingenieurbüro, Darrelmann + Partner Ingenieure, spezialisiert auf Dienstleistungen für die sichere Stromversorgung mit Konzeptentwicklung, Berechnung und Analysen mit den Kernkompetenzen Kurzschlussstromberechnung und Auslegung von USV- Verteilnetzen, Zuverlässigkeitsberechnung und Speichertechnik.
---
At the Technical University of Braunschweig, I studied electrical engineering with a focus on electrical machines and power electronics.
In the field of secure power supply and drive technology for many years I have gained experience, especially with static and dynamic uninterruptible power supply systems, 400 Hz aircraft power supplies, and the development of flywheel storage. And I worked in senior positions in development, testing, service and product management.
Since 2006 I run a private engineering firm, Darrelmann + Partner Ingenieure, specializing in services for the critical power supply systems with concept development, calculation and analysis. Core competencies are short circuit current calculation and design of UPS distribution systems, reliability calculation and storage technology.